So you want your next business meeting to make an impact. How about putting the "produce" in "production"?
Farm-to-table production refers to a particular means of food processing that cuts out the use of preservatives or chemicals in favor of a greener, more environmentally friendly approach. We should know—we've been doing it for over 13 years up here in the rich, verdant hills of Vermont. Business catering for meetings and other corporate functions is a big part of what we do, and we cherish the opportunity to bring our community's business leaders a fresher perspective on corporate catering. It's especially rewarding because of the direct benefits they see from our food and our process on things like company morale, loyalty and employee production.
Check out the following infographic to learn about the benefits of our farm-to-table approach for leading productive business meetings.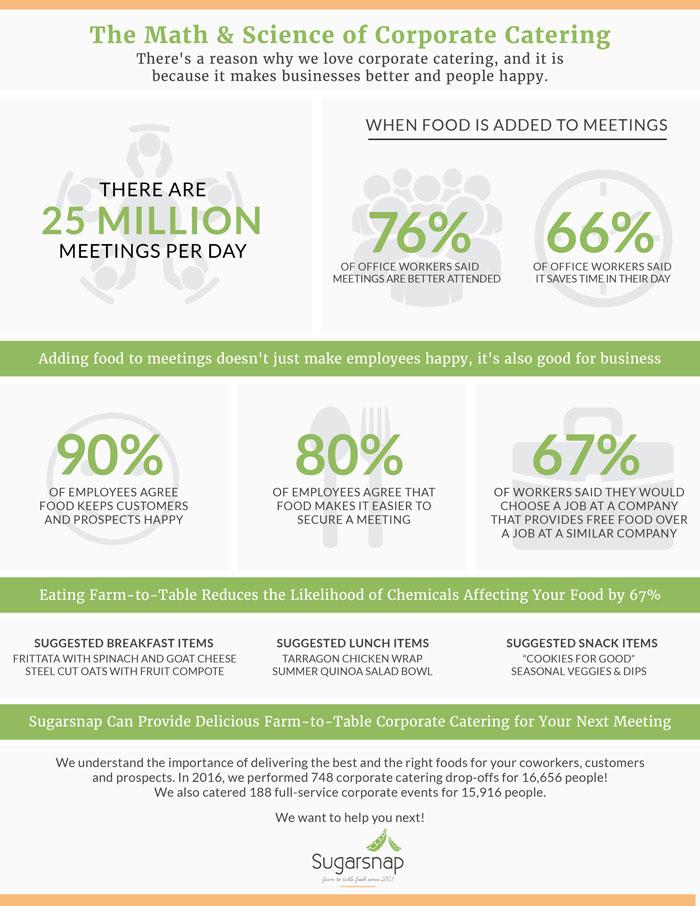 Healthy and high-quality farm-to-table catering means more productive employees, better meetings and more efficient business processes. Our drivers come fully uniformed and follow through on our deliveries with a quiet, professional set-up. When all is said and done, your management team and colleagues will be impressed that you not only took the initiative to bring such high-quality catering to their group, but also that you did your homework and found a healthy boon to the business by choosing a farm-to-table alternative.
If this sounds like the kind of health-conscious and productive meeting that you're looking to have catered, contact us online or give us a call at 802.861.2951 and we'll make it happen.
Sources:
The Muse https://www.themuse.com/advice/how-much-time-do-we-spend-in-meetings-hint-its-scary

ezCater Survey http://www.businesswire.com/news/home/20161215005184/en/Survey-Finds-Providing-Food-Workplace-Positively-Impacts

ezCater Survey  http://www.businesswire.com/news/home/20161215005184/en/Survey-Finds-Providing-Food-Workplace-Positively-Impacts

Haas School of Business, UC-Berkeley  https://cmr.berkeley.edu/blog/2016/6/workplace-wellness/

WorkSphere-Harris Poll by Spherion  https://www.fastcompany.com/3035005/does-incentivizing-employees-with-free-food-actually-work

Study from Glassdoor – results published at Office Suite Strategies  http://www.officesuitestrategies.com/blog/ and https://www.glassdoor.com/press/employees-stay-longer-company-bosses-showed-appreciation-glassdoor-survey/

USAToday, ezCater Survey  http://www.businesswire.com/news/home/20161215005184/en/Survey-Finds-Providing-Food-Workplace-Positively-Impacts
More articles you might enjoy: