Sugarsnap is a farm to table caterer in northwestern Vermont. We have been proudly serving our community since 2003. We are made up of a team of skilled, dedicated and hardworking professionals with many years of catering experience. We love Vermont, and we love showcasing the incredible food and beverages produced here.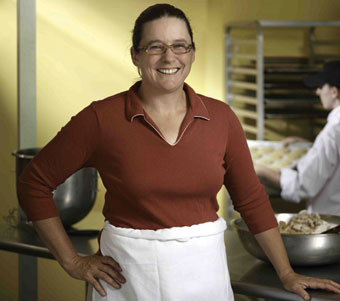 Our Story
Sugarsnap is comprised of a three-acre Intervale farm, an off premise catering service for weddings and corporate functions, a corporate delivery service, a bar service and a lunch cafe.
Catering is a difficult business with a tremendous amount of planning and details required. We ensure that all of our menus are specifically designed for catering. That means we have developed recipes, systems and methods for preparation, safe transport and temperature control to ensure that all of our food is exceptional and just as good as you would find in a restaurant.
In the Beginning...
Way back in 2002, I (Abbey Duke) decided to pursue my dream. Up to that point, I'd had an indirect career path working as a journalist, a field biologist and a marketer... all the while dreaming about my own business. So, I quit my job in marketing to enter "Abbey Duke University." At ADU, I followed a personalized graduate program whose end goal was to start a business that involved growing produce and selling its end product. I worked for Will and Judy Stevens at Golden Russet Farm in Shoreham; I attended business workshops; I spent a winter in Costa Rica working on an agroecology project. During the summer of 2003, while I was going through the process of renting land in the Intervale and creating a business plan, I got a call from Will Raap from Gardener's. There was a little building at the top of the hill (before coming down to the Intervale) that is for rent, was I interested?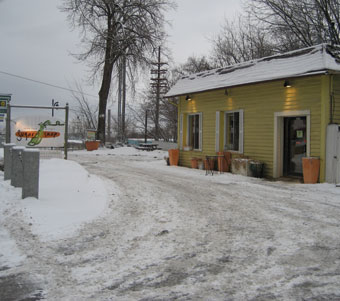 The little building had been a fried chicken wing place and, shall we say, had not been properly cared for. All I saw though was the potential. In July, 2003 I signed the lease papers and then I started looking for help. I found that help in two chefs: Kirk and Katie Fiore. Together, we created the business concept of Sugarsnap. And together we renovated the building and got it ready to open. It was a truly bootstrapped labor of love. We even rented a jackhammer to make space for new plumbing.
In December of 2003 we opened. Our original focus was freshly prepared take-home dinners and lunches. We grew steadily over the years and catering became a larger and larger part of the business. By 2008 we had maxed out our tiny space and it was time to make a decision: get a lot bigger or stay the same. Kirk and Katie decided they were ready to do something different, so they left the business in early 2009. And I decided to "go big".
In 2010, I led Sugarsnap through a large expansion, raised money and opened up a catering and commissary kitchen in Technology Park, South Burlington (with a cafe). Since then, we've grown significantly and we now offer a full bar catering service. In 2013, almost 10 years after our first day, we closed our original Riverside location.
What Will the Future Bring
Our whole team is focused on building the strongest and very best business that we can. We are working hard to expand our farm; increase the amount of local products we buy; improve our systems and help everyone succeed. In 2017, we are focusing on bring more people down to our farm.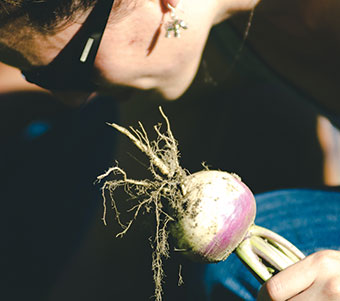 At the core of Sugarsnap are two key elements:
1. Our own farm and the network of local growers who supply the fantastic ingredients that we use. We are lucky to have access to such wonderful ingredients. And it is amazing how much more is possible and available now when compared to 13 years ago.
2. Our fantastic team of cooks, servers, and staff members. The Sugarsnap team works really hard with awesome attention to detail. For a small business, Sugarsnap's operations can become pretty complicated. Every day, this great team makes delicious food from scratch and serves it with style.