Here comes the season of running around in a holiday frenzy. But planning your company holiday party does not have to be this way! By working with Sugarsnap, one of the most skilled catering companies in Vermont, every step will be a breeze—leaving you with more time to relax and enjoy the season and event!
One way to simplify holiday party logistics is to host your party on-site. And we have a whole bunch of corporate holiday party ideas that will ensure this does not mean cutting any corners! Rather, it provides guests with an exceptional experience, lets them see the office in a brand new light AND saves you time and energy.
On-Site Corporate Holiday Party Ideas
Office Holiday Party Lunch Maze
If your office has an open floor plan with many departments, break down barriers by taking employees through the grounds as they visit different food stations. Dynamic food stations engage employees and make the boss' office seem a little less intimidating. When friendly staff welcomes guests into all sectors of the office, it feels like anything but a structured workplace.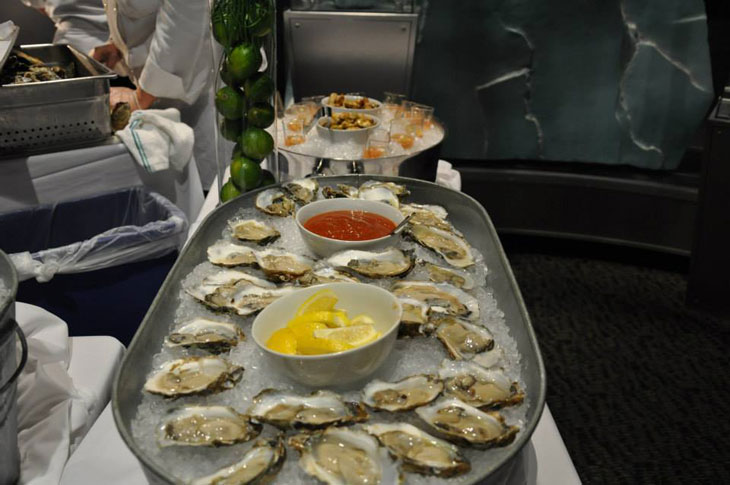 Some of our favorite holiday party food stations are:
Raw bar: Oysters, crab claws, ceviche, smoked mussels
Classic steakhouse station: Boneless ribeye carving station with your choice of steakhouse sides such as twice-baked fingerling potatoes and creamed spinach
Korean BBQ station: Offer something a little different with lettuce wraps, bulgogi beef, housemade kimchi and a variety of toppings.
Holiday Party at the Boss's House
We know work doesn't always end when you get home. Let employees know that you understand this and appreciate their commitment by hosting a holiday party at the house of a leader in the company. This is your chance to really spoil employees from the minute they arrive, so greet them with a deluxe bar that uses all Vermont ingredients as well as the finest passed appetizers, like:
Stuffed mushroom caps: With pancetta, apple and governors cheddar
Lamb lollipops: With lemon verbena pesto
Grilled figs: With prosciutto and blue cheese
After a luxurious dinner, make sure employees feel right at home with the most delicious holiday desserts like our holiday pastries and petit fours like our mini chocolate flourless cakes. Such decadent desserts will help them relax and mingle throughout the party.
Embrace Diversity in Cuisine and Culture
Of course, you want your company holiday party to be an inclusive event, so remember that you are celebrating the season rather than a specific holiday. While Burlington, Vermont catering companies are able to design menus that appeal to everyone with a variety of cuisine tastes and dietary options, it is very difficult for your décor to do the same. So keep it neutral with sparkly snowflakes and fresh greenery rather than Christmas trees, Menorahs and so on.
When all employees feel welcome, they will be more inclined to celebrate and interact with others. While they socialize and enjoy farm-to-table fresh food in such an inviting environment, they may naturally share stories and traditions of their culture—a valuable bonding experience. So let your guests and their experiences (rather than specific décor or activities) unite your company. Remember that you all share things like work ethic and corporate values that trump any differences.
Family-Friendly Company Holiday Parties
Your office is about as convenient a location as it gets for corporate holiday parties. But depending on the event time, childcare may still be a barrier to attendance. But there is a solution: invite the entire family! This is more than a convenience—it comes with these huge benefits:
Bonds employees: When employees have the chance to share their family with co-workers, they gain a better understanding of each other and their daily lives. For example, next time an employee talks about his babbling toddler, he will feel like his co-workers actually understand! This encourages employees to share and lean on each other in good times and bad, both in and out of the workplace.
Brings meaning to work: When employees give their loved ones a glimpse of their fantastic work environment, they return home with a better appreciation of what is being accomplished. This leads to a more understanding and engaged family—a valuable source of support for employees.
Gives extra family time: This time of the year, everyone wants to be with family, but time is always scarce. So one of the most valuable gifts you can give employees is a few hours of enjoying delicious food, festive music and fun holiday games with family.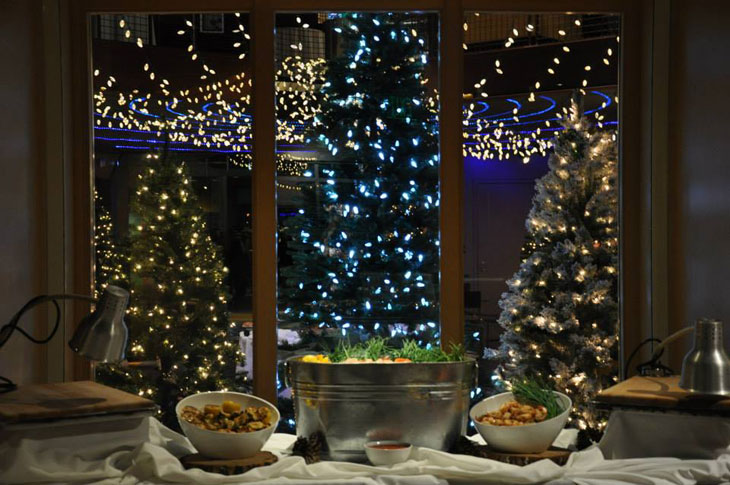 Of course, you will want to have a large selection of non-alcoholic drinks and kid-friendly menu items as well as holiday party games for all ages. Activities like cookie decorating and candy stations are great, because kids and adults can work on them together.
To check off entertainment and party favors from your holiday party checklist, set out company-branded sugar cookies next to the decorating station. This is also a great chance to give back to the community. For example, we are proud to donate 35% of all proceeds from cookie sales to COTS (Committee on Temporary Shelter) to support programs for homeless prevention.
Holiday Party Activities That Extend the Celebration
If your company hosts a holiday gift exchange a week or two after your office party, use this time to assign each employee the co-worker they will be shopping for. You can do this using a picture scavenger hunt that takes guests all over the office.
How it works: When you send out invitations, ask each employee for a copy of a holiday photo/card of him or herself. It can be a current one or date all the way back to childhood. Before your holiday party, hide them throughout the office. Then when it's time for the big group activity at your party, send employees off on a scavenger hunt in search of the photos. Once each employee has found a photo, they will turn it over to find a co-worker's name, for whom they will go shopping.
The benefit: Employees will have fun getting to know each other as they share photos and memories. Also, when you hold your office gift exchange, they will be reminded of the good time they had at the holiday party.
These unique holiday party ideas combine with farm fresh catering to delight guests with the most wonderful food and feelings of the season. Our meticulous event planners can help your employees enjoy every bite and moment.
For a no-obligation quote, or simply to share your holiday party vision, contact us online or give us a call. You can reach our Burlington delivery catering team at (802) 861-2951, or for special event catering, call (802) 861-2951.
More Articles You Might Like: