By Lauren Young
The first thing you might see walking through the Sugarsnap farm in Burlington's Intervale is the sea of winter squash plants or the bright sunflowers towering over the bush beans. But if you were to close your eyes and listen to your nose, the first thing you would notice would surely be the aroma of mint or basil. Or their nearby neighbors— orange thyme, anise hyssop, sage, bee balm, chives, and savory.
Our farm herbs are a consistent crop—we use them steadily throughout the summer and they continue to produce all the way through the growing season.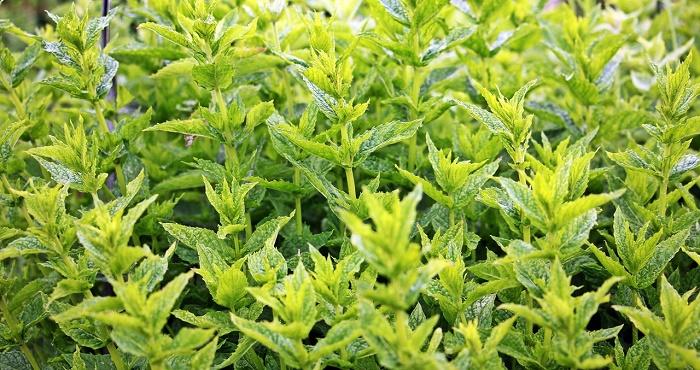 Personally, I think of the herbs as the "right brain" of the farm. They open the door to new taste combinations and culinary creativity, adding flavor to our dishes while also serving as beautiful garnishes and centerpieces. To preserve the taste of summer even into the winter months, we also hang and dry herbs like oregano and thyme. Sage, another dried herb, shines through best in November and December when we use a lovely sage rub on our holiday turkeys and a flavorful sage salt on our homemade popcorn.
Fresh herbs are utilized in Sugarsnap's kitchen for almost any dish you can imagine: mint used to freshen up the Lamb Meatballs; parsley, cilantro and chives generously applied to the Garlic and Herb shrimp; dill starring in house-made Dilly Beans; and basil prominently featured in the Mediterranean Salad's vinaigrette. The list goes on and on.
As the point person for processing farm products, I use herbs most commonly in producing our line-up of refreshing summertime drinks (available at our tech park café, Summervale at the Intervale, or for drop-off and catered events). Our delightful cilantro lemonade, mint limeade, bee balm iced tea, lavender honey spritzer, and basil watermelon cocktail all utilize fresh herbs from our farm. What these drinks all have in common is that the essence of each beverage comes from an herb-infused simple syrup.
Our favorite herbs from the farm to make herb-infused simple syrups are basil, cilantro, anise hyssop, mint, bee balm, and lavender. The possibilities are truly endless and we are always experimenting with new and interesting combinations.
Here is how I make an herb-infused simple syrup. First, I fill a large pot with equal parts (by weight) water and sugar. I stir and bring it to a boil and then turn off the heat. For every 1 quart simple syrup mixture I use 1 ounce of fresh herb leaves (basil, mint, bee balm, cilantro, etc.). I place the herbs in a pot and then pour in the hot simple syrup. I let the herbs sit in syrup for 90 seconds and then strain them. Finally, I let the syrup cool and then stick it in the refrigerator. Herbal syrups can store for up to two weeks.
Once you have a simple syrup made, it takes no time to whip up a drink. To make a gallon of Sugarsnap's mint limeade we mix 3 cups lime juice, 3 cups mint simple syrup, and 10 cups water. Pour over ice and garnish with a mint leaf.