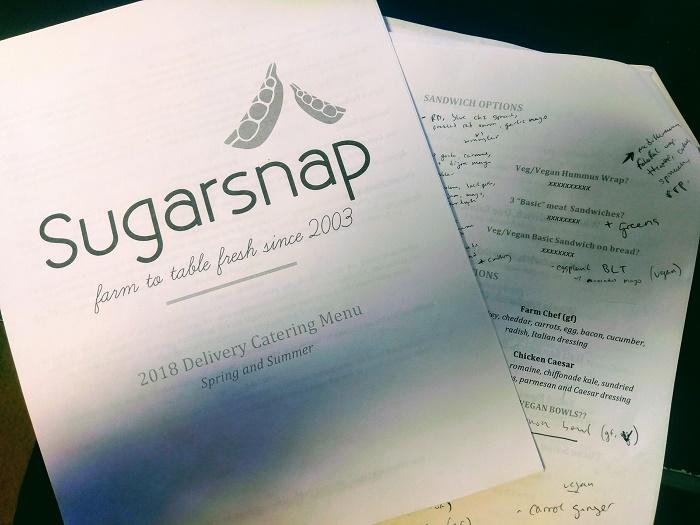 Dropoff Manager
One of the most exciting things about working with food, particularly for those of us directly plugged into the local farming scene and seasonal landscape, is the development of new menus to reflect changing harvests, flavors, and seasons! At Sugarnap we strive to have menus that reflect not only the seasonal tastes and preferences of our customers– think chili for those cold winter days or brisket sliders for those summer picnics– but also the agricultural landscape of both our own three acre farm in Burlington's Intervale, and the larger Vermont community of growers. Although creating new menus can be a lot of fun, it also requires a lot of organized planning and diligent work. As such, in looking ahead to fairer weather (easier said than done after that record cold snap!) the time has come for us to begin the process of planning and developing our Spring and Summer menus!
To give you a behind the scenes look into the hidden details, steps, and processes that go into creating and producing a delicious and seasonal catering menu, we will be tracking the development of our Spring & Summer dropoff menu in a series of short blog posts. While we are in the very early stages, there is already plenty to report!
The first, and arguably most important step to developing a new menu is careful planning. Setting a timeline for the accomplishment of key steps and processes allow for a structured approach that provides ample time for all aspects of the business to come in line with the new offerings and ensure an ordered and successful transition. To remain adaptable, it is often beneficial early on to not set strict deadlines, but rather offer proposed time windows in which certain tasks should be completed before the next stage can begin. Having a goal date for the finished product and moving backwards from there is an easy way to establish this timeline. With a goal launch of April 1st we set out to identify what needs to be done from now until then. So what all needs to get done? For us, we break it down into four stages:
– Initial brainstorm: This is where we bring the team together, with folks from all aspects of the business –kitchen, sales, and operations– to discuss our ideas for the menu. What has been successful in the past? What hasn't? What are our customers asking for? How can we best capture the changing of the season in both style and ingredients?
– Drafting and Testing [two weeks]: Full of new ideas from the brainstorm it's time to get it down onto paper, nail down the basic menu structure, and produce a working draft of the menu. The working draft serves as a guide for all the new menu items whose recipes need to be tested and perfected before they make it to the final menu.
– Costing and Operations [two weeks]: Once a recipe has 'passed the test' and we are ready and confident that we are bringing a delicious product to our customers, we need to dive into the nitty gritty of the business behind the food. Using the recipe we can establish our cost of goods (COG's) — exactly what it costs to produce in terms of the ingredients being used. From there we have a baseline where we can adjust and determine the appropriate price to set on the menu. Having this detailed approach to costing ensures that we as a company are able to hit our margins and also provide the best possible price for our customers. Beyond the costing, there is a lot more that goes into having everything set for a new menu launch: from updating ingredient decks to reflect any new allergens, to creating labels, menu documents, and various other collateral material. Having these items ready well in advance of launch helps to ensure a smooth transition!
– Final Draft and Launch [week before launch]: With all the kitchen testing and product costing finished, it's time to establish a final draft and get it out to our sales team so that customers looking to get their early spring events on the books have access to all the exciting new seasonal offerings!
While April 1st may seem far off, we know that Spring will be here before we know it, and we can't wait to get started on the development of this new menu! We are excited to share an inside look as things move forward, and hope you will join us along this journey. Stay tuned for updates!
– The Sugar Snap Team
What are your favorite Sugar Snap products? Do you have any suggestions for what you'd love to see on our dropoff catering menu? Got questions on any details of the process?
Send us a line at catering@thesnapvt.com We'd love to hear from you!