Is it Time for Lunch Yet?
Great food sets the tone for a meeting. It helps people focus and be more productive. It also helps get more people to come to the meeting in the first place. Impress your boss and your coworkers by providing great food for your next meeting.
MENUS
2019-20 Fall Winter Catering Menu
2019-2020 Holiday Specials for Drop Off
Ready to Order?
We have a new online ordering system! You can choose your items, schedule delivery and keep track of your past and future orders.
With Sugarsnap's corporate delivery service, you can be assured that your food will be fresh, plentiful and on time. We are proud to serve many of Vermont's top businesses, including UVM Medical Center, UVM and Ben & Jerry's and many more. Please contact us for more information and to place an order. If possible, please allow 3 business days for your order.
Our office hours are 8am to 4pm Monday to Friday and our standard delivery times are 7am to 6pm, seven days a week.
What's Included
For our delivery service, we deliver the food, set it up and then leave. All of our platters, bowls and service ware are compostable or recyclable.
We can also provide chafers and elevated presentations for your event or a server to stay and help. Just ask for a quote on this additional service.
Full-service event catering is available for:
You can count on Sugarsnap for:
On-time, attentive and professional service
Memorable, made-from-scratch meals using local and seasonal ingredients
Convenient ordering
Environmentally friendly packaging and serviceware
Ability to add extra service when you need it.
A few of our local clients

What our customers are saying
"Sugarsnap has been our "go-to" place for good food and great customer service. Your food is always so tasty — whenever we mention Sugarsnap mouths water — and we can feel good about where it comes from.
Just wanted to let you all know how much we've appreciated working with you. Thanks for everything!" - Marie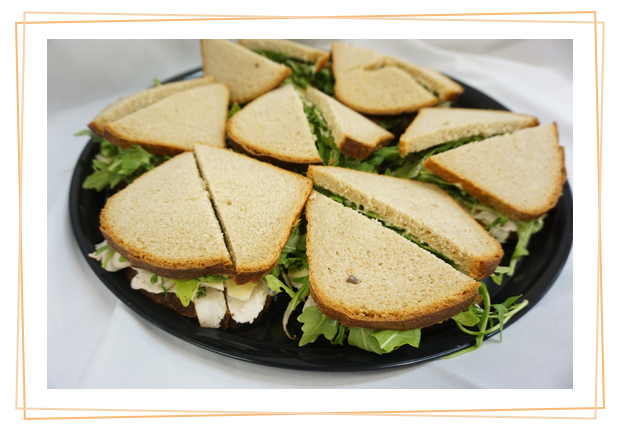 Let's plan your event.
Get in touch to get started, we're ready to help!
Send us a message or call (802) 861-2951.