For nearly 15 years, we've been studying trends for wedding catering in Vermont. Some things like design and presentation change over time. Other things like preferences for historic venues or healthy wedding food just continue to grow in popularity. But do you ever wonder where those trends come from?
The answer is simple—you! That's right, you, our client! Trends become trends because you inspire us with an idea—a creative wedding theme, a meaningful family recipe, etc.—and we get to build on it together. Then when other clients hear about it, they're inspired and the idea spreads like wildfire.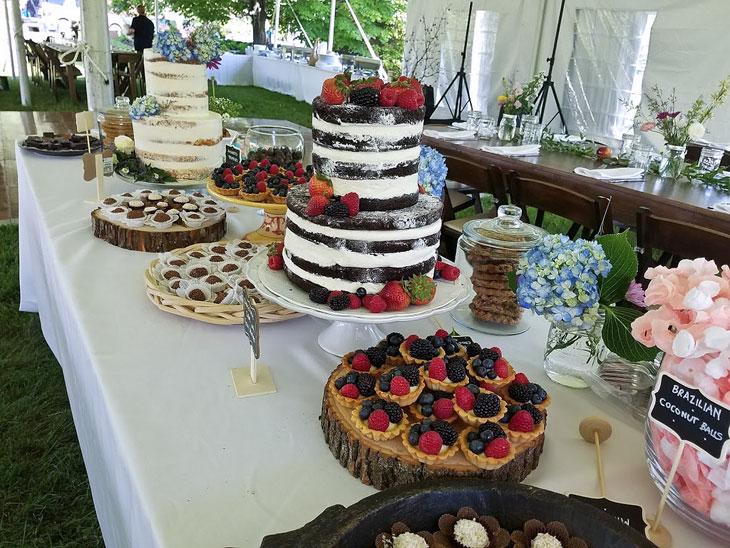 We want to keep inspiring you. So here are five popular trends that today's Vermont couples are always asking us about!
1. Beautiful, rustic barn venues
As a farm-to-table caterer, we see this first trend and can't help but smile. Couples continue to demand beautiful, rustic barn venues that welcome in the beauty of nature, and Vermont is full of them. Many of the top barn venues that achieve this look—including Intervale Community Barn, Isham Family Farm Barn, and West Monitor Barn—have even been renovated for the purpose of keeping this feel. Vermonters like tradition. So it's no surprise that these venues are in such high demand for rustic weddings like this one we catered recently.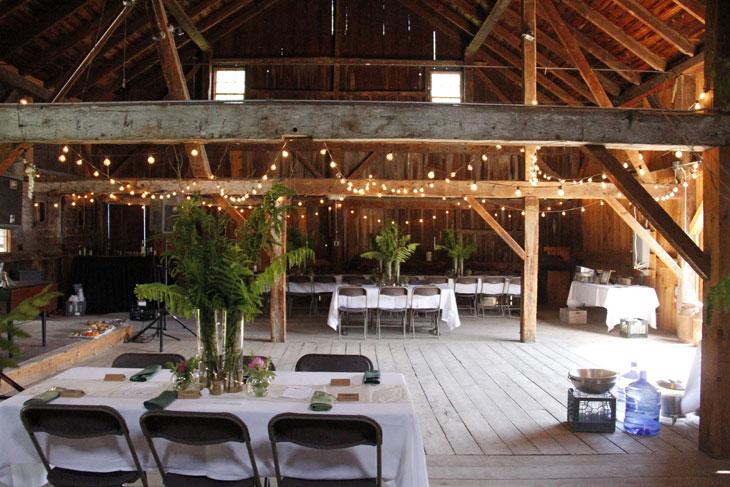 2. Sustainability, AKA weddings that are good for the environment
We get excited at the idea of helping the environment, and so do couples planning a wedding in Vermont. Trendy couples want to include nature in their weddings and help make nature better for future generations.
When we talk about green events and seasonality, farm-to-table catering is just the start. Of course, we grow many of our fresh ingredients right here on our farm and prepare delicious seasonal wedding cuisine from them shortly thereafter. But green also involves using recyclable and renewable materials and utensils. It means replenishing the Earth through sustainable farming and cutting down on waste. It means staying away from harmful chemicals. Vermont couples want smart catering that gives them a memorable meal and thinks about the big picture. Together, we love keeping the "green mountain state" green!
3. A family style service
Vermont is a small state with some fairly close families. Trendy couples enjoy a family style service with a strong feel of community and where everyone eats together. This has allowed us as farm-to-table caterers to really have some fun and use our imagination.
In a family style service, all tables get their food at about the same time. There's a joyous, convivial nature about them that sets them apart from the typical plated dinner service you might find at a wedding. It's an educational experience because guests get to learn about the varieties in spices. They're fascinated by the fact that there are four different varieties of basil that we use to achieve different flavors. Family style services are particularly trendy because they bring out the power of food to bring people together.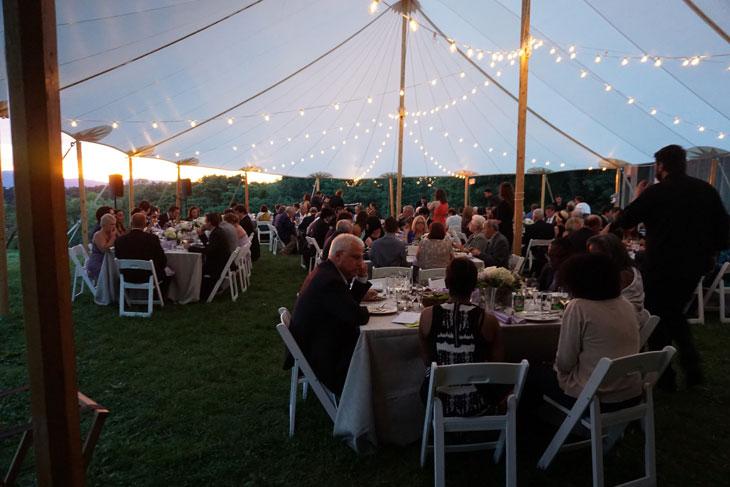 4. Fun and memorable food stations
We get asked about setting up food stations all the time because guests read about them beforehand. As wedding catering trends go, this one has been sweeping the nation (not just Vermont).
Rather than a traditional passed hors d'oeuvre, entree and dessert, trendy couples have us adorn the venue with different food stations. We've done everything from a local artisan cheese station to a Korean BBQ lettuce wrap station. The setup is new, fun, highly entertaining and gives each dish an added excitement. Our wedding guide and sample menus even include chef action stations where food is prepared right in front of you. Imagine enjoying oysters at your wedding that are freshly shucked right there by an expert chef. Or how about a tomato carving station with heirloom tomatoes, fresh mozzarella, basil and a variety of vinegars, salts and olive oils?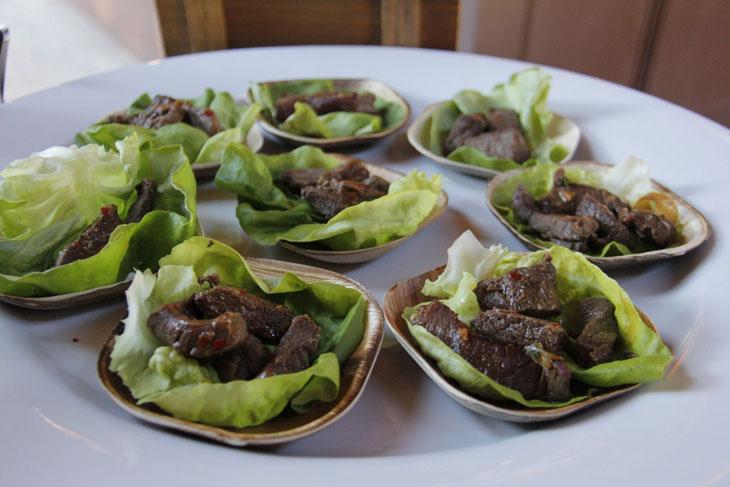 5. Casual fare and comfort foods
Finally, if you're feeling less adventurous about your wedding menu, freshly prepared casual fare and comfort foods are just as popular as ever. Vermont and the Burlington area have a long-standing comfort food tradition, and trendy couples still love thinking of fun ways to incorporate that into their weddings!
One of the ways we do it is through preparing a savory BBQ menu that includes vegetables and herbs harvested just one mile away from our farm. Farm-to-table catering for weddings is both trendy and exciting because it takes standard comfort foods like cole slaw or braised beef and gives them a never-before-seen twist on flavor. Imagine cole slaw with jalapeño and lime, or braised beef with chimichurri. Vermont couples love taking foods that their guests think they "know" and giving them a unique farm-to-table twist on their wedding day!
The more Vermont couples who come to us looking to make their wedding day special, the more we love learning about their visions and the possibilities of farm-to-table catering. You can bet that we'll continue to share those ideas with you as they come and go.
Looking for more interesting wedding catering ideas? Contact our Vermont catering team here or give us a call at 802.861.2951 and we'll start planning your amazing farm-to-table wedding menu today.
More articles you might enjoy: