My job at Sugarsnap is to help harvest vegetables at our Intervale farm and then process them for storage. Since early summer, I have been making pickles, tomato jam and herb syrups, blanching kale and much more. For the past six weeks, I've been roasting, scooping, packaging and freezing squash. The goal was to turn a huge pile of squash into puree–a rich, sweet, golden mash that our chefs use to make our velvety, soul-warming Creamy Buttercup Soup (keep reading for the recipe).
This photo shows about half of the 2,032 pounds of buttercup squash that we harvested. We ended up with 924 pounds of squash puree which will make several hundred of gallons soup.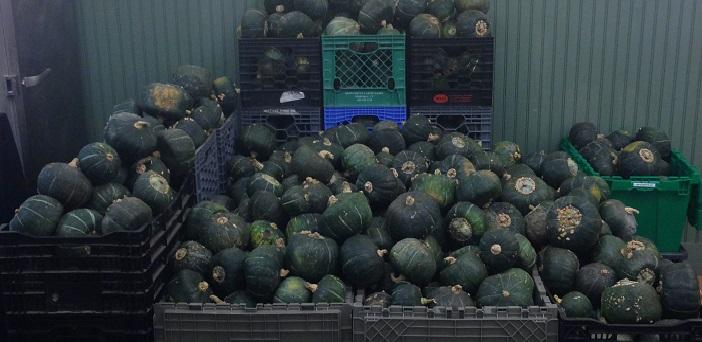 First, I cut the squash in half and roasted it in the oven cut side down until the flesh was really soft. Here is squash ready for scooping.
It was a team effort. The first day, I would roast many sheetpans of squash. Then, I'd wheel an entire speedrack of squash into our walk in cooler. And on day two, I'd get some coworkers to help scoop seeds and flesh out of the squash.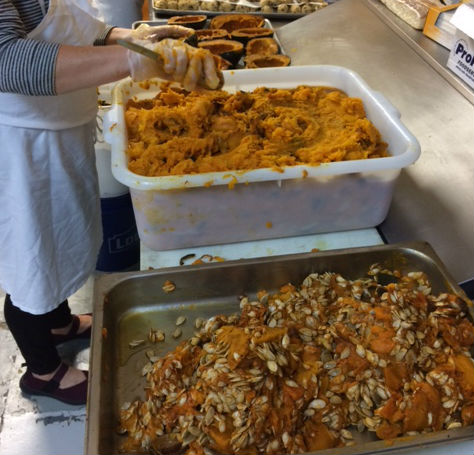 Then, we packed all of the flesh into vacuum sealed plastic bags and put them in the freezer.
Squash, or Curcurbita maxima, is from the Americas and is probably as old as agriculture itself. Ancient civilizations in Central and South America were cultivating it as far back as 7,000 years ago. In fact, the word "squash" comes from the Narraganset (Algonquian) word askutasquash, meaning gourd fruit or literally "the things that may be eaten raw." At Sugarsnap we prefer to eat our squash cooked and now that winter squash season is upon us, it is easier than ever to create a warm, healthy autumn meal. Delicata, butternut, and acorn squash can all be used to make soup. While they are all great, the squash we love best is buttercup (not to be confused with butternut!). Burgess Buttercup, to be exact. It's smooth, it's sweet, and it's delightful.
In fact, buttercup squash is similar to the kabocha variety. Each squash weighs three to five pounds and is a flattened turban shape with a pale green button on the bottom. The skin is dark green while the inside is a yellowish orange that deepens when cooked.
Given the ancient history of squash, it is surprising how new buttercup is to the vegetable scene. According to the Fedco Seeds Catalog: "The original buttercup strain showed up in 1925 as a chance cross between Quality and Essex Hybrid in the trial garden at North Dakota Agriculture Experiment Station. After further selection by famous seedsman Albert Yaeger, Oscar H. Will of Bismarck introduced it in his 1931 catalogue." In other words, the buttercup squash is a modern cross between an Essex Hybrid like the Essex Turban and a Quality, a type of Green Delicious. The Essex is beautiful but somewhat bland while the Quality is sweet but dry. The buttercup benefits from the best qualities of each. Just imagine: we have only had culinary access to buttercup squash for 85 years!
Here is the recipe for Sugarsnap's Creamy Buttercup Soup. You can find it at our retail location in South Burlington's Technology Park throughout the winter or request it for a drop-off order or a catered event!
Sugarsnap's Creamy Buttercup Soup
3 medium Buttercup squash, about 10 pounds
1 stick butter, about ¼ pounds
3 large onions, about 2 pounds
¼ cup apple cider vinegar
⅛ cup maple syrup
1 pint heavy cream
water
salt and pepper to taste
Directions
Preheat the oven to 375. Cut the squash lengthwise and place cut-side-down in a baking dish. Fill dish with ½" water. Roast squash. Test after 45 minutes by pressing a spatula onto the top of the squash and checking for firmness. Squash are done when the tops easily cave under light pressure, about 1 hour 30 minutes. Use a spatula to place squash on a baking sheet cut-side facing up for faster cooling. Set squash aside until they are cool enough to handle.
You may want to wait 30 minutes or so before moving on to this step to give time for the squash to cool down more. Chop onions into a medium dice. Melt butter in a large soup pot with a heavy bottom. Sweat onions in butter until translucent, about 20 minutes.
While the onions are sweating remove and discard seeds and pulp from the squash. Using a spoon, collect the squash puree in a small bowl. Try to scoop as close to the skin as possible without getting the skin in the puree reserves.
Add the squash puree and 1 cup water to the onions. Stir until the puree is mixed well. Simmer on very low for 20 minutes. Add the heavy cream and heat thoroughly.
Add apple cider vinegar and maple syrup.
Use an immersion blender to blend the soup until it is smooth and velvety. Thin with water until it coats a spoon but flows smoothly. Add salt and pepper to taste.