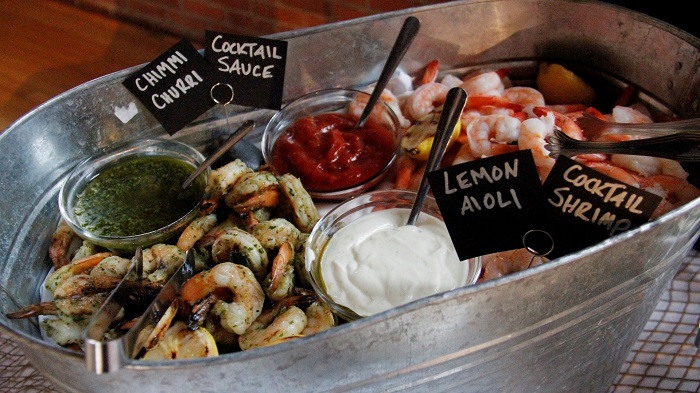 We recently catered a board dinner for the Vermont College of Fine Arts. The organizers wanted to host a refined meal that allowed for a lot of converstation and a sense of community.
Our solution: Family style service. This is a favorite style of ours. It is when our professional staff brings out the dishes on platters for the table. Guests pass the dishes around their table. Meanwhile, our staff fill wine glasses and replenish platters as needed. This service style helps to bring a sense of community to the meal through the sharing of food, conversation, and good-will.
A lot of the dinners we cater -- including business functions and weddings -- are now family style service.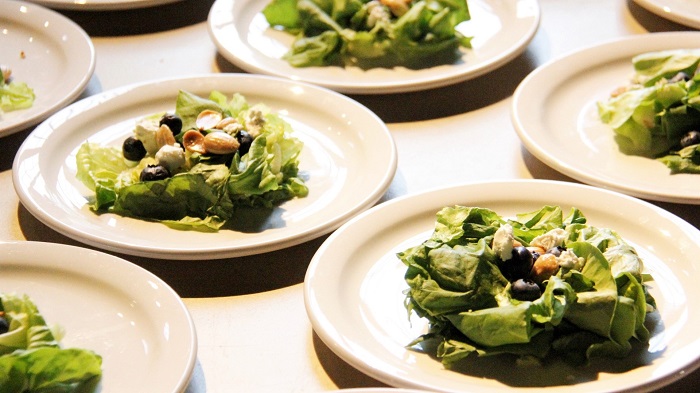 This meal started with appetizers during a cocktail hour. The choices included a vegetarian antipasto platter, a shrimp sampler and seasonal vegetables with dips.
A plated salad awaited guests at their table: Butter lettuce with Marcona almonds, blueberries, and goat cheese, topped with raspberry-lime vinaigrette.
Once salad plates were cleared, the meal was served to each table:
Grilled flank steak with chimmichurri
Roasted zucchini boats with ricotta basil mousse
New potatoes and green beans dressed with bronze fennel, dijon vinaigrette, and olive oil
Guests ended their meal with coffee and tea, paired with fruit trifles in mini mason jars. The dessert included chevre pudding, fresh berries, and shortbread!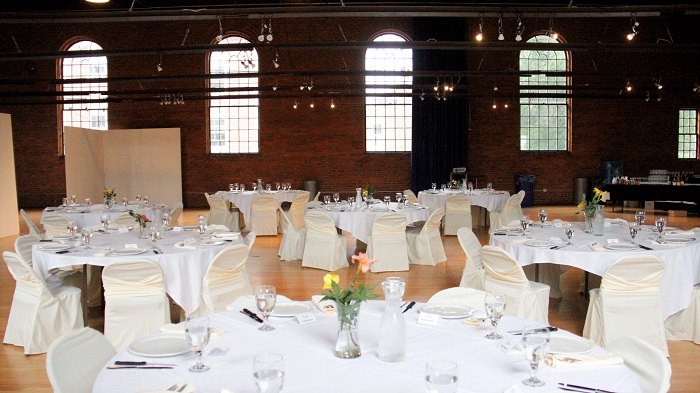 Vermont College of Fine Arts is a national center for graduate arts education focusing on a unique practice-based learning model for established and emerging artists. VCFA rests on a beautiful campus surrounding a green on a hill in Montpelier. There are a number of different buildings and rooms that they rent out for events. They have the ability to host small meetings, conferences, weddings or large receptions. This event took place in the newly renovated Alumni Hall - a perfect space for big groups.