While January and February tend to be slower months for us here at Sugarsnap in terms of putting on large scale events, they are consistently our busiest period for booking weddings, so much so that by the end of the month we will have most of our weddings booked through the entire rest of the year!  Luckily we've got a crack team to handle the blizzard of inquiries, lead by our wedding specialist — Kristen Beaver.
Our resident California native has been in the hot-seat these past few weeks fielding wedding inquiries from both local Vermonters and far flung folks coming to Vermont for destination weddings.  In one week alone she booked six major events, four of which were weddings for the upcoming year, and has upwards of 15 more potential wedding bookings to coordinate!  Luckily Kristen is more than up to the task, bringing with her nine years of experience working on weddings. Her favorite part?  Getting to really know the couples she is working with and spearheading the mission to make sure every last detail of their big day goes exactly as they envisioned in their dreams!  
Of course, getting all those details in order takes a lot of work.  As such, these short winter days are filled with face to face consultations, proposal drafting, and orchestrating menu tastings.  As a self professed foodie, the ability to host and coordinate customized tastings for couples gives Kristen the chance to get creative, seeking out ways to make meals that break away from played out norms while still appealing to the wide array of tastes and preferences that any wedding is bound to require.  Her favorite dish?  Roasted Japanese eggplant with marinated tempeh, tomato compote, and coconut cream — a custom creation for an upcoming vegan wedding.  
While the tasting is certainly the big show for securing potential wedding clients, its Kristen's dedicated work ethic, professional demeanor, and West Coast hospitality that really seals the deal!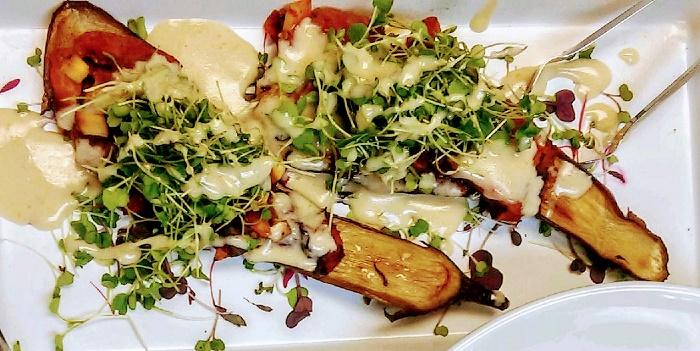 For more information about Sugarsnap Weddings see the Events tab on our website, thesnapvt.com