I love asparagus. I love everything about it. How it grows. How it tastes. I love that local asparagus is only available for a few weeks in the spring.
Here is the first asparagus spear I harvested this spring: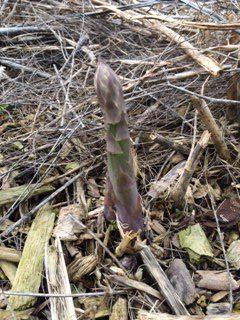 Asparagus is the young, tender shoot of a perennial plant. The plant sends up shoots; we pick them; and the plant has to send up more shoots. Eventually, we let the shoots grow and they quickly send out branches and become woody. An asparagus late in the summer is really something. In fact, we use the fronds as big and dramatic foliage at events.
My favorite way to eat asparagus is right when I cut it. The shoot is really tender and has a great mild flavor. But if I'm going to cook it, here is how I would do it (in fact, how I'm going to cook some for my family tonight):
Roasted Asparagus with Lemon Zest
Asparagus, 1 lb
Olive oil
Salt and pepper
juice and zest of one lemon
Preheat oven to 450
Break off the tough end of each asparagus spear. Toss in olive oil and spread on a cookie sheet. Sprinkle with salt and pepper. Bake for about 15 minutes until cooked but still crisp. It will depend on how thick the stems are. Once it is done. squeeze lemon all over and sprinkle with zest. Salt to taste.