Tasting food is a key piece of everyone's job at Sugarsnap. Every day our cooks taste food to maintain consistency and check seasoning levels. Our customer service staff taste dishes so that they know how to describe the dish. And we all taste new dishes and help to create new menu items.    While tasting food happens continually, we also have more formal tastings.
It's 9:45 everyone!
Every weekday morning, our cooks and customer service staff gather to taste specials and soups. Everyone can ask questions and provide feedback. Here we are gathered around three soups: Creamy Buttercup; Sausage, White Bean and Kale, and Hungarian Mushroom.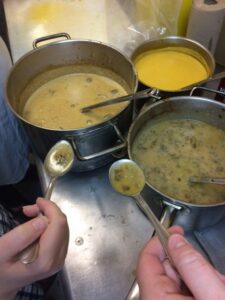 Family Meal
We provide lunch for all of our staff every day. The one thing we ask? Everyone's opinion. That way we can use the meal to also help to create or improve menus.
Time to Get Critical
One of the most fun things I do is tasting new menu items. We get really detailed and critical, and there is a lot more to it than the taste. What is the texture like? The temperature? Does it look appealing and delicious? How is the balance of spicy, sour, sweet and savory? What are the size of cuts? What is the experience serving and eating it?
Tasting passed appetizers is especially fun. Each element of the appetizer needs work together to make a perfect bite. And it needs be stunning to look at. And it needs to be easy for a guest to take off of a tray and eat. Tasting these appetizers is when we really get to indulge in details. And noone is allowed to just say "I like it".  Laura makes sure of that. " "What do you like about it," she'll ask, "what do you think of the texture?"
Over time, we have gotten to know each others palates well.  I can taste something and predict that Laura will think it needs more salt. And everyone knows what I usually want: more acid. And if it's a dish that mixes fruit or sweet flavors in a savory dish, there is a good chance that Laura and Tessa (both trained pastry chefs, go figure) will love it, and me, not as much.
Here is a photo of a Cucumber Cup with Soy Ginger Beef and Peanut Sauce: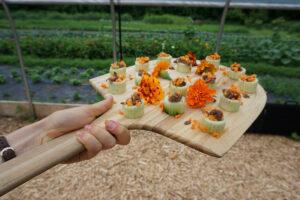 We had to work on getting the size of the everything just right. And the balance of crunchy (cucumber), salty and spicy (beef), sweet and savory (peanut sauce) so that everything was balanced. We decided to put the sauce under the beef, so that everything hit the tongue at the right time.
Don't forget about beverages 
We work closely with local breweries and beverage distributors when we are choosing the selections for our bar list. It's a tough job! Vermont Wine Merchants is our primary wine supplier, and our sales rep, Tiffany Szymaszek, hosted us recently for a tasting. Here is a photo of us in their tasting room: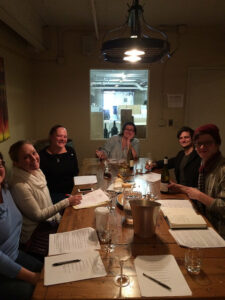 It was a fun afternoon and led us to a few  new selections for our wine list, including a personal new favorite of mine. A sauvignon blanc from New Zealand called Sauvee Sea.  There are clear notes of passionfruit which brings me right back to my 7th grade year in Australia, but that's another story.
Winter is our slower season, so it gives us a lot of time to work on new menu items. That means we'll be spending a lot of time debating acid and salt and crunchiness….   I can't wait!