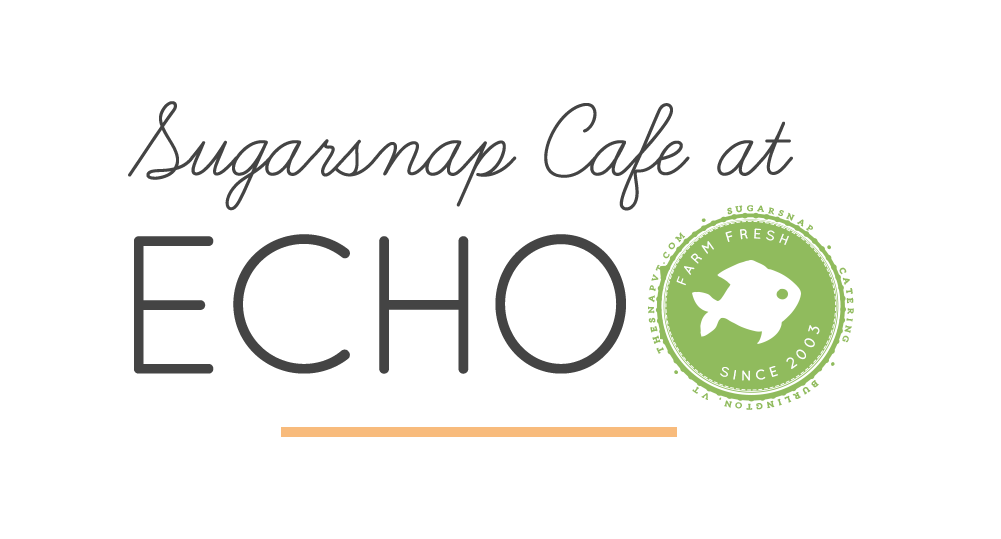 Come down and have lunch right on Burlington's waterfront!
We serve lunch and snacks at ECHO seven days a week from 10am to 5pm. We have great "grab and go" options for kids and adults including wraps, iced coffee and snacks. We are also the exclusive caterer at ECHO. There are plenty of seats (including outdoor seating when the weather allows). And you don't have to buy a ticket to visit the cafe. We are located right in the lobby.
Our menu
Lunch
Wraps
Chef and Garden Salads
Variety of prepared salads
Snacks and Drinks
> Iced and hot coffee
> Yogurt
> Pudding
> Juice and soda
> Chips
> Snack mixes
Events at ECHO
Sugarsnap is the exclusive food and beverage caterer at ECHO. We hope you will consider hosting an event here. Sugarsnap has catered weddings, private parties, and events of all types at ECHO. Please contact us if you have any questions regarding our involvement with events at ECHO.
It's also a great location for kids' birthday parties. Sugarsnap can provide lunch and a birthday cake (or any food choice) through our catering service.
Our location
1 College Street
Burlington, VT 05401

Open 7 days a week
10:00 a.m. - 3:00 p.m.