Here they are—the best team in the business!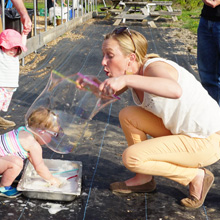 Kristen Beaver
Bio
Sugarsnap's event coordinator, Kristen has been working in event planning for over a decade. While she only moved to Vermont from California recently, she has quickly fit into the farm to table culture of the state and seems like a true Vermonter. While she pays close attention to all aspects of catering, her heart lies with the food and knows that a good meal is the key to any party. A fan of classic rock, she also jams like no one else while clearing tables.
Cynthia Bissonnette
Bio
Our Weddings and Events Coordinator Cynthia Bissonnette uses her eight years of event and wedding planning experience to bring organization, style, and guidance to every occasion. Her keen eye and kind leadership ensure that every detail is accounted for and every loose end is tied up. As a new mother, Cynthia is completely enamored by her sweet daughter and relishes time spent with her baby and fiance.
Amber Corey
Bio
A burgeoning baker, Amber is Sarah's understudy. Originally from Maine, she has not had to give up her love for New England's charms. When not in the kitchen she likes to explore the many paths untraveled of the area from woods to fields and historic properties.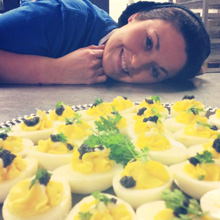 Grace Dionne
Bio
The catering chef extraordinaire, Grace is the brilliance behind many of the dishes that make Sugarsnap stand out. After long days of working her magic in the kitchen and jamming of country music, she comes home to her husband and baby who also benefit from her gastronomic prowess.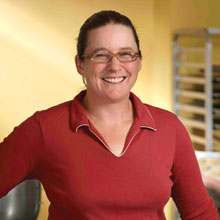 Abbey Duke
Bio
The owner and life force behind Sugarsnap, Abbey is always working to improve the company. Whether it's testing a new product for her breakfast or chatting with farmers, Abbey is the reason why Sugarsnap is the award-winning service that it is. Prior to opening the company, she worked in field biology and journalism, but abandoned those to rent a farm in the Intervale and open a take-out prepared foods cafe which grew into a full blown catering company. While it seems like she's always working, she does spend her downtime with her family, hiking, biking and tasting the wonders of Vermont's farms.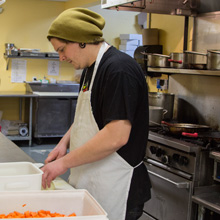 Dylan Holstein
Bio
Whether working in the kitchen at Tech Park or at an event, Dylan is a smile bucket and good mood frequency emitter. If given the chance he'd go to the beach or the slopes and explore the world outside.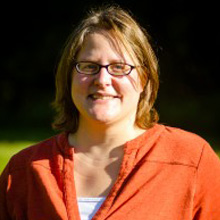 Laura Kanya
Bio
Laura is the glue that keeps everything together and operating the way it is supposed to. Her days are filled with details and deadlines. She started her food career in high school working at a British Tea Shop. After a number of stops, including Olivia's Croutons, Sundance Resort, Smokejacks, she was the Pastry Chef behind the nationwide launch of Vermont Mystic Pie. Since then, she's been a Chef Instructor at NECI and the Executive Pastry Chef at The Essex. Her favorite treats? Ice cream and sorbets and chocolates. Outside of work, you'll find her with her husband Mark and son Connor, checking out new food hot spots or at the farmer's market.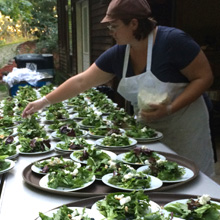 Tessa Kennison
Bio
Our bridge between farm and table and Assistant Director of Operations, Tessa makes sure that our farm products end up on your table. She joined Sugarsnap in 2014 with the revered title "best volunteer ever" and has ascended ever since. A local of the area, she takes the time to appreciate the wonders of the Burlington area. Brewfest, for example, is like a holiday for her and her husband.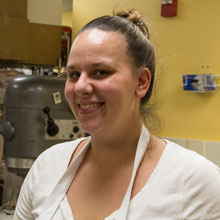 Erica Maynard
Bio
One of our cooks, Erica is a powerhouse who always amazes the chefs by how quickly she accomplishes tasks. She carries her skills from our main kitchen to events seamlessly as she can be a addition to a team or the leader.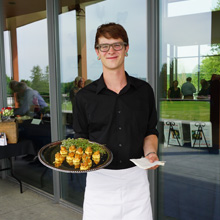 Will O'Donoghue
Bio
A passion for local goods, craft beer, and unique cocktails have formed a perfect union at Sugarsnap for Bar Manager William O'Donoghue. Whether he is serving up farm fresh basil infused cocktails or pouring glasses of the freshest IPA Vermont has to offer, you'll be hard-pressed to find him without a beaming smile. When he is not behind the bar, you'll likely find him biking and hiking all over Vermont, perusing the produce at the farmer's market, or he may just be buried in a book in some hidden nook along Lake Champlain.
Lea Santos
Bio
Pennsylvania native Lea Santos, Sugarsnap's delivery driver, is quite simply a delightful team player. She takes care of all of her job duties with grace and ease and is always offering a helping hand and captivating conversation to anyone in need. She's enchanted by Vermont's landscape, hypnotized by the beauty of Lake Champlain in her backyard, and loves that she can find just about anything within walking distance of her new Burlington home.
Anna Ste. Marie
Bio
Although Anna can usually be found behind the retail counter scooping salads and peddling paninis, her real passion lies in storytelling. As Sugarsnap's marketing assistant, she uses photos, videos, and captivating design to tell our story. Good luck finding her outside of work; she's probably traveling to a fearful, unknown corner of the earth or swept up in her favorite podcast.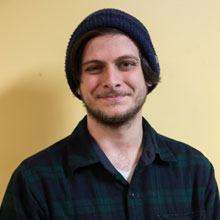 Jackson Taymans
Bio
Our Corporate Catering Coordinator Jackson Taymans is at the helm of coordination and oversight for our delivery business. This mild mannered leader doubles as a self-taught chef, making a name for himself at Burlington local food landmarks such as the Skinny Pancake and Hen of the Wood. He lived in Russia once he finished undergraduate at UVM but after being called home by the Green Mountains, he now spends his time enjoying the area with his dog Toby.
Lauren Young
Bio
Lauren is Sugarsnap's farm produce processor, which is way more fun than it sounds. She balances her time between harvesting on the farm and working in the kitchen turning the fresh food into delicious products like syrup, jam and pickles. A Colorado native, she abandoned the mountains and plains for Vermont's hills and pastures. She says that farming is something that binds all cultures together, connecting her with someone from every part of the globe from all sections of time.