Here they are—the best team in the business!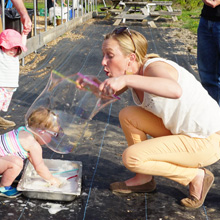 Kristen Beaver
Bio
Sugarsnap's event coordinator, Kristen has been working in event planning for over a decade. While she only moved to Vermont from California recently, she has quickly fit into the farm to table culture of the state and seems like a true Vermonter. While she pays close attention to all aspects of catering, her heart lies with the food and knows that a good meal is the key to any party. A fan of classic rock, she also jams like no one else while clearing tables.
Cynthia Bissonnette
Bio
Our Weddings and Events Coordinator Cynthia Bissonnette uses her eight years of event and wedding planning experience to bring organization, style, and guidance to every occasion. Her keen eye and kind leadership ensure that every detail is accounted for and every loose end is tied up. As a new mother, Cynthia is completely enamored by her sweet daughter and relishes time spent with her baby and fiance.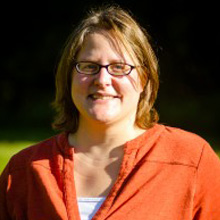 Laura Kanya
Bio
Laura is the glue that keeps everything together and operating the way it is supposed to. Her days are filled with details and deadlines. She started her food career in high school working at a British Tea Shop. After a number of stops, including Olivia's Croutons, Sundance Resort, Smokejacks, she was the Pastry Chef behind the nationwide launch of Vermont Mystic Pie. Since then, she's been a Chef Instructor at NECI and the Executive Pastry Chef at The Essex. Her favorite treats? Ice cream and sorbets and chocolates. Outside of work, you'll find her with her husband Mark and children, Connor and Elinor, checking out new food hot spots or at the farmer's market.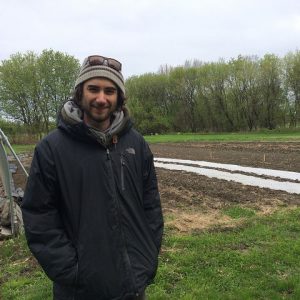 Matt Lasser
Bio
A love of being outdoors and working with his hands is what drew our new farm manager, Matt Lasser, to a career in the agricultural sector. Since March, Matt has been running our 3 acre farm single-handedly. With tireless effort, he provides Sugarsnap with many of the ingredients we use in our kitchen each day. When he's not in the field, you can find him camping in the Green Mountains, creating unique taco dishes in his kitchen, or producing music for his rising techno-pop band. Matt insists, though, that being on the farm doesn't feel like work at all. "I get to be outside all day, and put some plants in the dirt - what could be better than that?"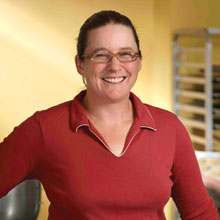 Abbey Duke
Bio
The owner and life force behind Sugarsnap, Abbey is always working to improve the company. Whether it's testing a new product for her breakfast or chatting with farmers, Abbey is the reason why Sugarsnap is the award-winning service that it is. Prior to opening the company, she worked in field biology and journalism, but abandoned those to rent a farm in the Intervale and open a take-out prepared foods cafe which grew into a full blown catering company. While it seems like she's always working, she does spend her downtime with her family, hiking, biking and tasting the wonders of Vermont's farms.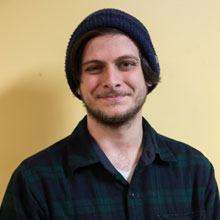 Jackson Taymans
Bio
Our Corporate Catering Coordinator Jackson Taymans is at the helm of coordination and oversight for our delivery business. This mild mannered leader doubles as a self-taught chef, making a name for himself at Burlington local food landmarks such as the Skinny Pancake and Hen of the Wood. He lived in Russia once he finished undergraduate at UVM but after being called home by the Green Mountains, he now spends his time enjoying the area with his dog Toby.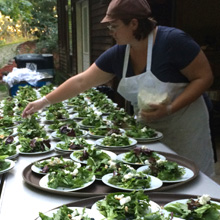 Tessa Kennison
Bio
Our bridge between farm and table and Assistant Director of Operations, Tessa makes sure that our farm products end up on your table. She joined Sugarsnap in 2014 with the revered title "best volunteer ever" and has ascended ever since. A local of the area, she takes the time to appreciate the wonders of the Burlington area. Brewfest, for example, is like a holiday for her and her husband.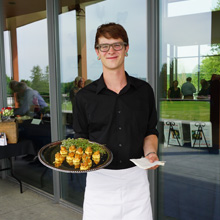 Will O'Donoghue
Bio
A passion for local goods, craft beer, and unique cocktails have formed a perfect union at Sugarsnap for Bar Manager William O'Donoghue. Whether he is serving up farm fresh basil infused cocktails or pouring glasses of the freshest IPA Vermont has to offer, you'll be hard-pressed to find him without a beaming smile. When he is not behind the bar, you'll likely find him biking and hiking all over Vermont, perusing the produce at the farmer's market, or he may just be buried in a book in some hidden nook along Lake Champlain.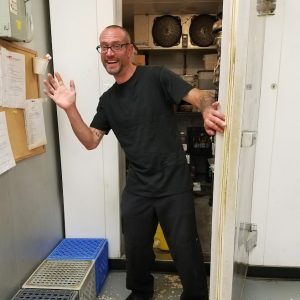 Trevor Smith
Bio
After twenty years working in the restaurant industry - with eight of those years in the catering sector - Trevor joined Sugarsnap in June as our new Executive Chef! With his unwavering focus and energy, Trevor keeps our staff working diligently. His passion, though, goes far beyond the kitchen. Graduating from Orange Coast College in California with a Bachelor's Degree in Fine Arts, Trevor loves oil painting and photography. He indulges in any opportunity to get outdoors - from camping, gardening, and rock climbing with his wife, to traveling to Costa Rica each year.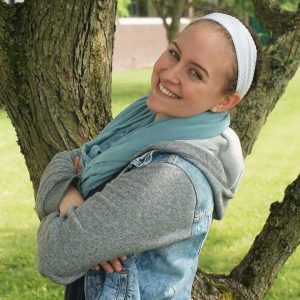 Andrea Brown
Bio
With her fiery personality and innate wit, our event management intern, Andrea, has kept everyone engaged and high-spirited since she joined our team in May. Her work with Sugarsnap will be the final of three internships needed to complete her Bachelor of Arts in Food & Beverage Business Management at the New England Culinary Institute. After retiring from the army, Andrea finished her Associates Culinary Arts Degree at NECI, and has taken a particular interest in cooking - and eating too, of course - Mexican food! Outside of work, she spends time with her husband and three children, cooking, painting, and creating play doh sculptures.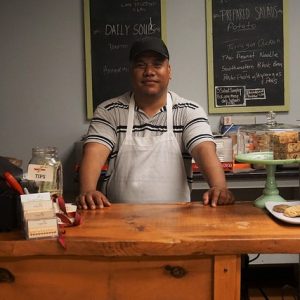 Joe Ambo
Bio
It is common sentiment throughout all of Industrial Park that Joe is the most affable person around. When working at our cafe - he addressed many of our customers by name and brought a smile to the faces of all who passed by. Since the cafe closed in June, Joe has focused his efforts on event execution and deliveries. He became been an integral of the Sugarsnap team in February and has kept us in high spirits and frequent laughter thereafter. Joe worked as a radio announcer in the Republic of Kiribati before moving to Vermont in 2015. While singing to his favorite band, Te Vaka, he spends his weekends flipping fish on the grill and playing outside with his three children.
Ben Bissonnette
Bio
With fifteen years of experience in the kitchen, Ben is highly qualified as our garde manger. He is an expert in a variety of kitchen responsibilities, but spends his time at Sugarsnap perfecting our variety of salads. Outside of work, you'll find him playing with his two children, riding his bike, listening to music, or reading a wealth of sci-fi and fantasy novels!
Seth Tanen
Bio
Sugarsnap's sandwich artist, Seth, is one of a kind. In addition to creating works of art between bread slices, he teaches leatherworking, speaks french, and plays guitar for several bands! Seth moved to Burlington from Washington D.C. for college - graduating from the University of Vermont in 2017 with Bachelor's Degrees in both English and French. Outside of work and school, he spends his time fermenting raw foods, baking bread, and conversing with his fifteen year old cockatoo - Doodles.
Samantha Blow
Bio
Beginning as an easy-bake oven connoisseur, Sam has been mastering the art of pastry-making since childhood. She is the first in her family of talented home-bakers to work professionally - joining our team in January as an intern to complete her Bachelor's degree in Baking & Pastry from the New England Culinary Institute. She thrives in our industrial-size kitchen, and loves creating a variety of delicious croissants and laminated doughs. Sam is upholding her great-grandmother's legacy as a proficient and passionate baker, and brings that ebullience to the Sugarsnap kitchen every day.
Michael Kilhullen
Bio
Since May, Mike has been interning at Sugarsnap to complete his Bachelor's Degree in Culinary Arts at the New England Culinary Institute. He has been working professionally in a kitchen for two years and moved to Vermont last year for school from his home in New Jersey. When asked what his favorite food might be, he promptly replied, "Pie - all of them." Mike spends his time outside of work listening to a variety of music and hanging out with his beloved cat.